Well, today is Jazz & Snickers 3 month birthday.  Kind of a bitter sweet day for me because that means tomorrow will be our 4 month Angelversary.  Will write a tribute to Sassy tomorrow.  There isn't a day that I don't think about her though.  Anyway Snickers & Jasmine are growing like weeds.  Our last vet visit was Nov 23 and they were 24 pounds each which is pretty good considering Jazz was the runt and when she came home she was 5 pounds and Snickers was 8 pounds.
We have had fun potty training I finally think we have gotten the habit down but once in awhile have an accident (normal puppy stuff).   So Snickers has had to be in the crate at night for the past 2 weeks as I have had surgery and couldn't really get around and was in some pain so her & her sister have been sleeping in Sassy's old crate.  That is one thing I believe in is crating a dog until they earn their rights out (no more chewing LOL.  It didn't hurt any of my other dogs & Bosch & Sassy were in them until 2 then earned a little more of the house).
So will include a few pictures of these 2 now & Bosch.
Snickers kissing Bosch & sitting on Jazz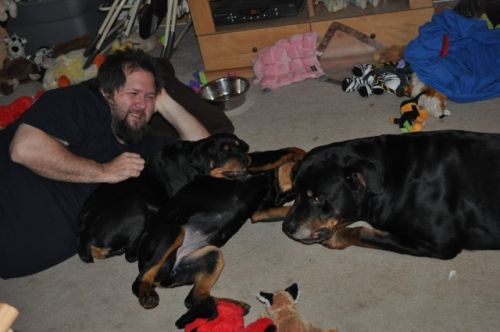 Playing with Bosch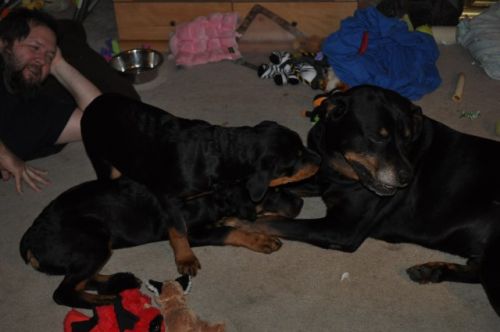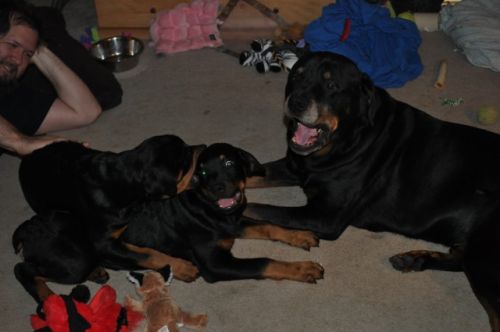 Who me?? Snickers