HOPPY 7 MONTH AMPUVERSARY BABY GIRL.  You are my sweet pea and Sugar Bear.
Wow, I honestly can't believe its been 7 months.  It seems just like yesterday I was sitting at home while working waiting to hear how Sassy was doing.  I kept wondering if she would be ok.  What it would be like to have a Tripawd.  This journey to say the least has been amazing in itsself.  We are continuing to beat odds that we thought we would never get the chance to do.
Every day that I have with Sassy is a HUGE Blessing.  When we got the met diagnosis I was sure I would only have a few weeks but she PROVED ME wrong and continues to amaze me every day with the things that she does.  Yes, don't get me wrong there are days we are tired and if its hot & humid it really bothers us but we continue on.  We just don't spend much time outside.  Long enough to go potty and right back in.  Days its cooler & not so humid we walk the yard and sit outside for awhile.
Sassy is still eating her hamburger, Goats milk & Yogurt diet.  BUT, She did eat some dry Merrick the chicken, pea & brown rice kind with a little hamburger on top & some canned grain free foods from Natural Balance.  So maybe we can kinda slowly get her back on dog food LOL.  I know I am kidding myself though.  She is pretty spoiled.  She probably will always get her hamburger & goats milk.  I know the yogurt she has always had.
Can't believe we are over 1/2 way to a year.  We will make this  🙂  I am going to keep the positive thought coming and Sassy and I will do our parts and God willing we will make it to a year.  And all those guardian angels will help out.
So I am going to enclose some pictures of Sassy today.  I will probably add more later since I didn't have much time to take some of her & I together only a few.
Also I never took a picture of the necklace I had Rene make me that the only time it comes off is to sleep & shower.  I wear this thing every day.  I did forget to add we ordered it, the US Mail took the long way around like to Nevada and this necklace showed up the same day as we had our diagnosis of Mets.  So we consider it our good luck charm on this part of our Journey.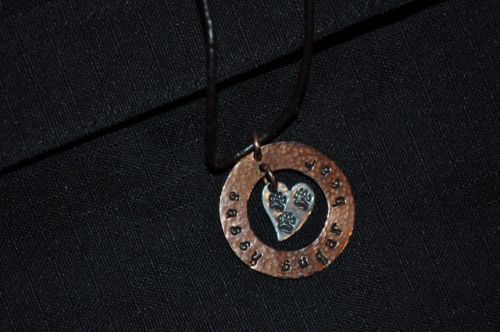 This is how she spends her day while I am working
Just lounging on the bed  Bosch in the front & Sassy towards the back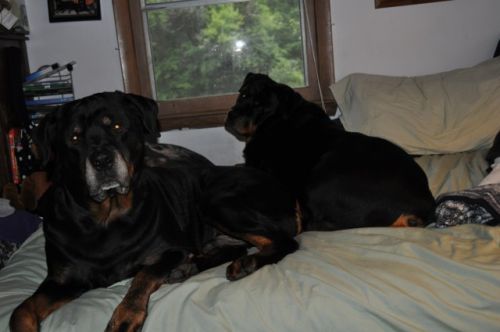 This is this morning after I got of the shower   Happy 7 month ampuversary Baby