Well, it has been awhile since I posted anything on Sassy's blog.  The 20th of this month it will be 2 1/2 years since Sassy & Brendol crossed to the Rainbow Bridge.  Since that time we had a lot of furbabies joining her.  She told me that they were all ok and waiting for the day that we can all join them.  Don't get me wrong since I am not posting on every Angelversary or ampuversary anymore I remember them privately.  I know everyone was getting tired of those posts and I just didn't want my girl forgotten  🙂
So here is our update in our house.    Snickers is just her wonderful ornery self and loving as usual.   Jasmine has been fighting an injury on her left rear since end of Sept/early Oct.  We did x-rays etc because the first place my mind went was to Osteoscaroma.  Dr Truax (who did Sassy's amputation) and now our vet since Dr Boyer left said he never saw anything on the x-rays and it was more in her hock area.  So we did more rest and rimadyl.  Well, I decided to let her play with Snickers and run of course she sure didn't limp when she was playing  but come in and rest and couldn't hardly put any weight on it. I had taken her in multiple times.  So this continued on til Feb when I asked Dr Truax if we could consider acupuncture or something.  He said he wasn't against it.  So I consulted our naturalpathic Dr.,  Dr Hebel (she is the one I attended the food seminar on for dogs with cancer).  We saw her and she did a chiropractic adjustment, evaluation, acupuncture & laser treatment then 10 days later we did a 2nd one.  Oh the evaluation she came up with was a possible cruciate tear.  So between the 1st and 2nd treatment the swelling had gone down and I have seen some improvement.  Dr Hebel wanted us to consult with a surgeon.    So on March 10th we consulted DR Chris Horstman who came from Las Vegas and a big Oncology/surgical center out there.
So Dr Chris said in his evaluation that he didn't feel that is was Jasmine's knee it was more down in the hock area where Dr T thought it was.  So he gave us 3 options : continue what we were doing and rest (no horse play with Snickers or running), cast/splint and last resort being surgery.  So we are continuing our plan with DR H.   She will keep in contact with Dr Chris and let him know and if we don't see improvement then cast/splint and so forth.  I am going to have them keep Dr T in the loop.
Bosch is good.  He had a few benign eye tumors removed.  One had been there since before Sassy crossed the Bridge.  It just started growing and was really starting to bother him.  I then noticed 2 smalls ones on the inside of the eye and those were removed as well.  So Bosch spent 14 wonderful days in a cone.  (haha not)   He figured out if he went out the back door and ran into the door jam it popped the cone open.  so spent more time snapping it closed.  Had I used a cone from the vet it would have been broken within 10 minutes getting home because those are so rigged and my dogs run into everything getting them off.
My baby girl Sassy       This was on her last birthday 07/26/2013 a few weeks before crossing to the Bridge on Aug 20,2013                                              Bosch & Sassy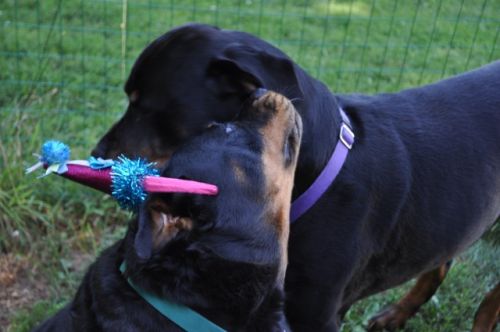 Sassy