It has been a fun few weeks with Ms Snickers aka Energizer bunny as Sally calls her.  I haven't posted in a few weeks.  Well Ms Snickers found a battery on my floor from when my camera bag fell onto the floor.  I thought she had a bone that she was chewing on.  She all of a sudden jumped up started shaking her head & pawing at her mouth.  I thought she had a bone stuck in her mouth or something.  I opened her mouth & didn't see anything in the process I turned the light on.
I saw the double A battery laying on the floor.  Picked it up there was hole in it.  I had battery acid on my hand so I assumed Snickers had some in her mouth.  I was online and googled really fast and it said milk to help counter act the acid.  So I just dumped probably 3-4 cups in a bowl and gave it to her.  I also called the ASPCA POISON CONTROL NUMBER 888-426-4435 (If you have a Home Again Microchip they waive their consultation fee which is $ 65.00)  They told me that I did the right thing and to give her Pepcid for 7 days.
Everything was going good up until 3-4 days ago.  Then Snickers started throwing up stomach bile.  In the last few weeks also we switched from puppy food to adult food.  Well I just figured the 1st day it was tummy upset and all would be fine.  When it continued I called the vet and she went in yesterday.  Mom took her in for me because I couldn't get off work.  Dr Boyer drew blood, also wanted urine (Snickers wouldn't cooperate).  She said with the history of the battery (I had told her when I took Jazz in for some coughing) that she wanted to rule out any kind of reaction or ulcer.  So they wanted to x-rays but Snickers couldn't eat or drink anything from yesterday from the time they left the office.     I gave her some water up until about 7 because I figured over 12 hours since they could not get her until noon today was way too long without water.   Took the xrays saw no damage or blockages that could be causing her to get sick.  Thank God.
So back to assuming its the food.  It may just be too much for her system.  Although Jazz doesn't have a problem nor does Bosch on this food.  I am supposed to feed a bland diet for 7 days, switch her back to puppy food for 3 weeks then probably try a different adult food.  We feed Taste of the Wild Salmon & Waterfowl mixed because that seemed to keep Bosch's fistulas under control.  I guess its back to researching what kind of food for all of them.  I would like to try to keep them on the same but I guess if I can't I can't.
Jasmine has been fighting a cough lately.  I just figured it was kennel cough not so.  I guess her larynx is swollen.  Time to heal that.  She has been doing pretty good.  Coughing only every couple of days now vs every day.  Bosch is fighting his yearly allergies (Dr Boyer said this is a bad year again).  He has been chewing his feet & licking them.  Has sores between the pads of his feet this year.  I can't wait til we get a good freeze to kill all the allergens & bugs (aka mosquitoes)
Seems like this crew is really keeping me on my toes.  I know Sassy is watching over them otherwise Snickers stuff would have been a lot worse.  So here are some pictures from a few days that we went to the baseball field and let them run.  The girls absolutely love it.  Bosch and Sassy used to go a lot before her amputation.  After her amputation (Nov 2012) we didn't get to go much the next year because by Spring 2013 she had her lung mets.  She went a couple of times & went around the field a little but got too tired so she just would lay down.  It was something though she always enjoyed to do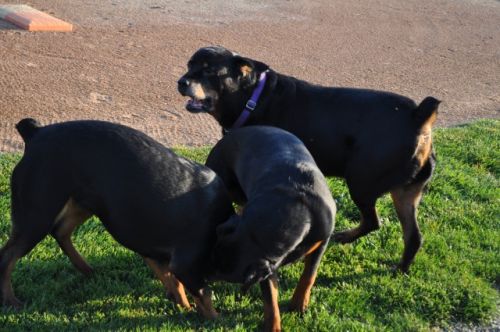 Jazz front, Snickers middle & Bosch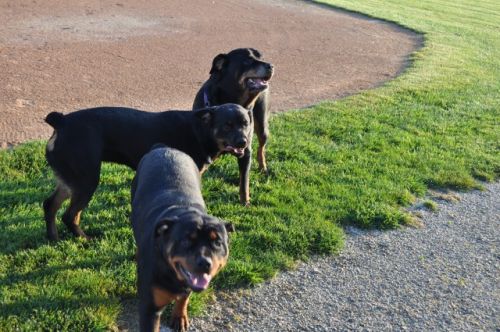 Snickers on the right , Jazz left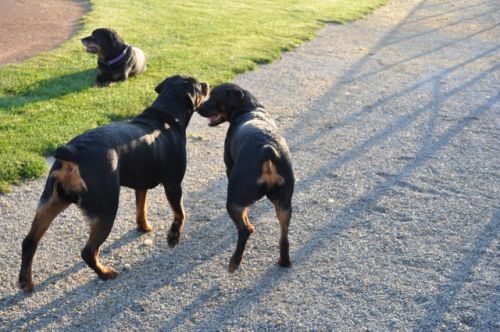 Bosch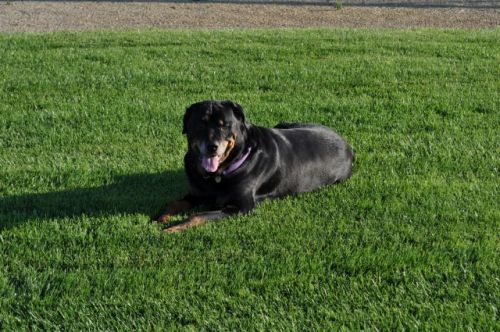 The crew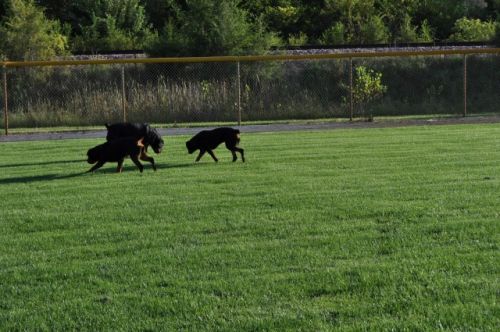 Bosch, Snickers & Jazz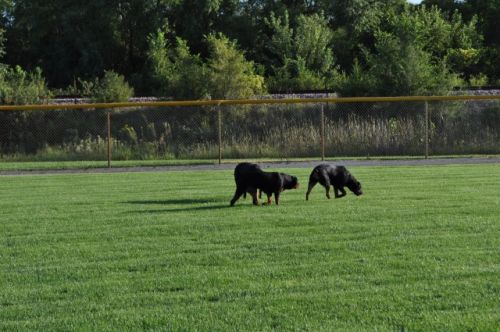 Snicker & Jazz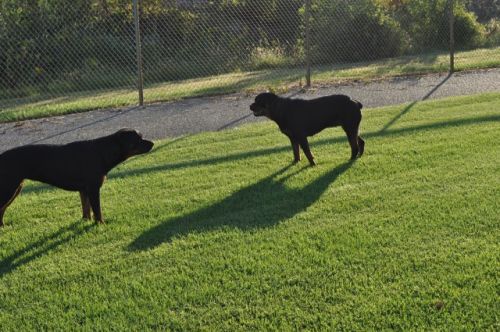 Jazz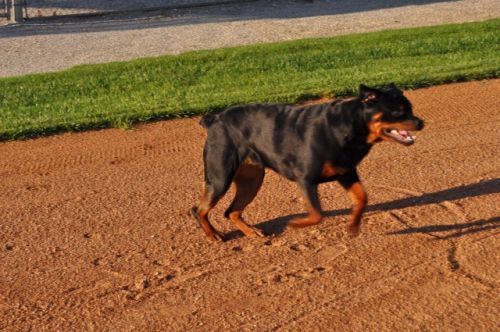 and of course our Hero Sassy Sugar Bear